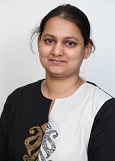 Ms.Anshul Garg

Assistant Professor – Technology Management

M.B.A. (Advertising and Public Relations); B.com (Computer Applications).

Specialization:

Advertising and Public Relations
Email Id:
anshul.garg@nmims.edu
Phone No.:
022-42332000 (Extn- 2039)
Experience:

7 Years (Industry: 1 year; Academics: 6 years)
She has worked as a Research and Academic Associate at Indian Institute of Management Indore and S.P. Jain Institute of Management and Research, Mumbai in the area of Strategic Management and Marketing Management. She has co-authored several research papers and presented them in National and International Conferences. She has teaching experience as full-time and visiting faculty in prestigious management institutes of Indore and taught subjects like Advertising and Sales Promotion, Marketing Management, Marketing Research, effectively. Along with academic experience she also possesses corporate experience by serving central India's leading adverting agency in client servicing department. Having done an MBA from International Institute of Professional Studies Indore in Advertising & Public Relations with distinction, she has an excellent academic record backed with profuse experience of advertising sphere.
Interest areas:

Brand Management 
Strategic Management for Small Scale Industries 
Indian Retail Scenario with special reference to unorganized retail sector 
Integrated Marketing Communication
Research
• Publications – 1 (International-1) 
• Presentations- 5 (International- 3, National- 2)
National
National conference: mapping for excellence challenges ahead at Pioneer Institute of Management Indore - "Is organized retailing a threat to small retailers? Perceptions of retailers and consumers", Authors Anshul Garg & Prof. D.L Sunder.
National conference on emerging trends in information technology & management (net-itm-2011) at Christian eminent Indore, "Is knowledge management a fad?" Authors Prof D.L. Sunder & Anshul Garg. International
Sixth international conference- business innovation and entrepreneurship: transforming world economy at Prestige Institute of Management And Research, Indore. "Managing innovations for competitive advantage", Authors Prof D.L. Sunder & Anshul Garg.
Paper Presented in International Conference PrCon-2012.- Developing Strategies for Organizations in Global Economies: Prospects, Issues and Challenges at Prestige Institute of Management , Dewas, "Takeover regulations in India" ,Authors Prof D.L. Sunder & Anshul Garg
Conferences/Workshops/Seminars attended – 3
Academic Activities
She has guided 8 M.Pharm + MBA (Pharm tech) students for their research projects. 
She has guided 16 B.Pharm + MBA (Pharm tech) students for their research projects.
Recent Publications
Haresh Raulgaonkar, Aishwarya Wagle, Henna Shah, Anshul Garg, Yugal Sikri. Study of the factors affecting the selection of orthopaedic implant brands and their perceptual mapping in Mumbai city, NMIMS Management Review, Volume XXXIII, January 2017:73-87.