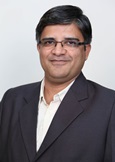 Dr. Prashant Suresh Kharkar

Associate Professor

M. Pharm. Sci., Ph. D. (Tech.)

Areas of Specialisation
Pharmaceutical Chemistry
Official Email Id
prashant.kharkar@nmims.edu
Office Phone No.
022-42332000 (Extn- 2028)
Experience

13 yrs (Industry – 9 years, Academics – 4 years)

Drug discovery professional with expertise in Medicinal Chemistry and Computer-aided Molecular Design (CAMD) and Molecular Modeling. Managed discovery projects (metabolic disorders, cancer, pain, inflammation) in the lead identification and optimization stages. Managed interactions with team members from other disciplines & delivered all project goals in time. Currently working with SPP School of Pharmacy and Technology Management as Associate Professor, Department of Pharmaceutical Chemistry.

Interest areas

Design and synthesis of new chemical entities (NCEs) as therapeutic agents
Drug repositioning/repurposing
Design and development of novel fluorescent probes and their biomedical applications
Development of novel excipients and their pharmaceutical and material sciences applications
Process development of Active Pharmaceutical Ingredients (APIs)
Development and validation of Analytical Methods
Impurity profiling
Research

Publications – 29 (International - 27, National- 02)
Book Chapters- 04
Presentations- 33 (International- 23, National- 10)
Government funded projects – 02 

Completed
o Discovery of Inhibitors of System Xc¯ Transporter, a Novel Therapeutic Target for Glutamate-Mediated Excitoxicity and Epileptogenesis (DBT/NTF) (Reference No. BT/PR4605/MED/30/719/2012) (Rs. 18.16 lakhs) (September 2012-August 31, 2015 (Co-PI)
Ongoing
o Design and Development of Novel Inhibitors of Inosine 5'-Monophosphate Dehydrogenase II (IMPDH II) as Anti-inflammatory Agents (DST/SERB) (Sanction Order No. SERB/F/60/2014-15 dated 09.04.2014) (Total Outlay Rs. 26,00,000/-) (May 28, 2014-May 27, 2017)(PI)
Targeting Therapy-resistant Cancer Stem Cells (BIPP/BIRAC/DBT) (Total Outlay Rs. 1.5 Cr) (Collaborator) (Along with Godavari Biorefineries Ltd., Mumbai)

Industry projects - 02

Completed
o Comparative Evaluation of Microcrystalline Cellulose obtained from Bagasse (MCC-B) with Pharmaceutical Grade MCC. Consultancy Project sponsored by Godavari Biorefineries Ltd., Mumbai. (Total Outlay Rs. 90,000/-) (February 1 – April 30, 2015) (PI)
Ongoing
o Development of Novel Anti-Cancer Stem Cell (CSC) Therapeutics. Consultant to Godavari Biorefineries Ltd., Mumbai (Total Outlay Rs. 4,00,000/-) (December 15, 2015-December 14, 2016). (Consultancy)
Conferences/Workshops/Seminars attended

20

Academic activities:

He has guided 26 M. Pharm. students for their research projects.

He has three PhD students registered under his supervision.

Awards:

Indian National Science Academy (INSA) deputation under International Collaboration and Exchange Programme to University of Mauritius, Mauritius (2016)
Best e-Presentation Award at the Virtual Conference on Computational Chemistry (VCCC)-2014 organized by University of Mauritius, Mauritius (August 1-31, 2014)
Best Poster Award at International Conference on Pure and Applied Chemistry (ICPAC)-2014, Mauritius (June 2014)
2nd Prize in Oral Presentation at Manshodhan-IV (December 2013)
DST Foreign Travel Grant for presenting research work at Gordon Research Conference on Bioorganic Chemistry, Andover, USA. (June 2013)
2nd Prize in Oral Presentation at Manshodhan-III (December 2012)
All India Rank 1 at the Graduate Aptitude Test in Engineering (GATE)-1998 examination. Score : 99.96 percentile
K. C. Mahindra Talent Scholarship for securing 1st rank in T. Y. and Final Yr. B. Pharm.(1997-98) 
National Merit Scholarship for securing 90 % in S. S. C.
University Grants Commission – Junior Research Fellowship award (1998)
University Grants Commission – Senior Research Fellowship award (2000)
Chemical Structure Association (CSA) Trust Grant 2003 (US $ 1000) for presenting poster overseas.
Council of Scientific and Industrial Research (CSIR) Foreign Travel Grant for presenting research paper at a Conference in Australia
Professional Memberships:

Member, Royal Society of Chemistry (RSC)
Association of Pharmaceutical Teachers of India (APTI) – Life Membership (December 2012)
American Chemical Society (ACS)
Molecular Graphics and Modeling Society (MGMS) (2014-15)
Recent Publications:

Kharkar, Prashant S.; Ramasami, Ponnadurai; Choong, Yee Siew; Rhyman, Lydia; Warrier, Sona. Discovery anti-Ebola drugs: a computational drug repositioning case study. RSC Adv. 2016, 6, 26329–26340. (Impact Factor (2014): 3.840)
Sahu, Nitesh; Kharkar Prashant S. Computational Drug Repositioning: A Lateral Approach to Traditional Drug Discovery? Curr. Top. Med. Chem. 2016 (Published on the web). (Impact Factor (2014): 3.402)
Chhabria, Sagar V.; Akbarsha, Mohammad A.; Li, Albert P.; Kharkar, Prashant S., Desai, Krutika B. In situ Allicin Generation Using Targeted Alliinase Delivery for Inhibition of MIA PaCa-2 Cells via Epigenetic Remodeling, Oxidative Stress and Cyclin-Dependent Kinase Inhibitor (CDKI) Expression. Apoptosis 2015, 20(10), 1388-1409. (Impact Factor (2014): 3.685)
Shah, Chetan P.; Kharkar, Prashant S. Inosine 5'-Monophosphate Dehydrogenase (IMPDH) Inhibitors as Antimicrobial Agents: Recent Progress and Future Perspectives. Fut. Med. Chem. 2015, 7(11), 1415-1429. (Impact Factor (2014): 3.744)