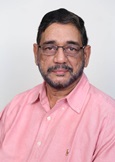 Dr. V. S. Velingkar

Professor,
Head, Department of Quality Assurance

M.Pharm., Ph. D (Tech.)

Specialization
Pharmaceutical and Analytical Chemistry
Email Id
vs.velingkar@nmims.edu
Phone No.
+91-022-42332000 (Extn- 2018)
Experience

35 years (Industry-02 years and academics - 33 years)
He has long standing professional experience of 35 years. He was vice Principal and I/C Principal of one of the premier pharmacy institutions in the country, K M Kundnani College of Pharmacy, Mumbai. He was nominated as a member of Board of Studies and Research Recognition Council for Pharmacy discipline by University of Mumbai. He is also included as one of the team members of various panels for AICTE, NBA, PCI, DTE (MS), MU, etc. He has been honored as a trustee of Indian Foundation for Pharmaceutical Reference Standard Substances (IFPRESS), Mumbai. He was nominated member of Board of Studies of Goa University. He is a recognized post graduate teacher and a recognized guide for doctorate programme of University of Mumbai.
Interest areas: 
Design and synthesis of Bioactive molecules
Studies on impurity profiles of APIs
Research
Publications – 52 (International-12, National- 40)
Book Chapters- 01
Patents- 04
Presentations- 55 (International- 05, National- 50)
Government funded projects – 06

Completed - 06


Presentations- 55 (International- 05, National- 50)

Design, synthesis and pharmacological evaluation of substituted Aryl sulfonamides as potential cognitive enhancer and anti-obesity agents Department of Biotechnology, Govt. of India. Rs. 15,85,500/- (2012-2015).

Design and Synthesis of Bioactive Heterocyclic Non-peptide inhibitors of β- Secretase by Molecular Modeling. University Grants Commission. Rs. 6,80,000/- (2009- 2012).

Design, Synthesis & Biological Evaluation of some Pro-drugs of N-Anthranillic & Aryl Propionic acid. Mumbai University. Rs. 25,000/- (2008- 2009).

Design Synthesis and Evaluation of substituted Aryl Propyl Acridone Carboxamides as Chemosensitizing agents. AICTE Research Promotion Scheme Rs. 13,80,000/- (2007-2009).

Synthesis, characterisation and pharmacological evaluation of degradation product of an official life saving drug-Diltiazem. AICTE MODROBS scheme. Rs. 8,00,000/- (2004-2006).

Studies on some potential antidiabetic agents. AICTE, R & D scheme. Rs. 3,60,000/- (2000-2002).


Industry projects-01

Synthesis and characterization of impurities present in some official life saving drugs. IFPRESS, Rs. 4,90,000/- (2001-2004)

Conferences/Workshops/Seminars attended

20
Academic activities
He has guided 35 M. Pharm. students for their research projects.
He has guided 04 of PhDs successfully.
Awards
IDMA Best Paper Publications for the year 2010 & 2011 in the discipline of Pharmaceutical Chemistry
Pharmacogenomics : The search for the Individualised Therapy. Indian Journal of Pharmaceutical Education & Research, Vol. 40, No. 2, 84-92. (Apr-Jun 2006). (Honored as Best Review Article by IJPER in APTI 12th Annual National Convention at Chandigarh in Oct 2007)
Best Paper Presentations:

Dendrimers in drug research, 58th IPC, Mumbai, December 2006
Thalassaemia, Awareness, Prevention, Care and Control in the New Millennium, 55th IPC, Chennai, Dec. 2003.
Synthesis, Standardization and Biological Evaluation of Some Potential 2-(4-Isobutyl Phenyl) Propionic Acid Analogues, 52nd IPC, Hyderabad, December, 2000.
Professional Memberships
Association of Pharmaceutical Teachers of India (APTI)
Indian Pharmaceutical Association (IPA)
Recent Publications
Archana S. Gurjar, Vincenza Andrisano, Angela D. Simone, Vinay S. Velingkar. Design synthesis, In-silico and in-vitro screening of 1,2, 4-thiadiazole analogues as non-peptide inhibitors of Beta-secretase. Bioorganic Chemistry. 2014, 57, 90–98. (Impact Factor-2.141)
Vinaykumar S. Velingkar and Anil K. Chindhe. Ligand based pharmacophore generation and 3D-QSAR study of serotonin ligands using PHASE. Journal of Computational Methods in Molecular Design, 2014, 4 (3):1-9.
Vinaykumar S. Velingkar and Vikrant D. Dandekar. Microwave-Assisted Synthesis and Evaluation of Substituted Aryl Propyl acridone–4-carboxamides as Potential Chemosentizing agents for cancer. Letters in Drug Design and Discovery, 8, 2011, 268-275. (Impact Factor-0.961)
V. S. Velingkar and V. D. Dandekar. Design, Synthesis and Evaluation of Substituted N-(3-Aryl Propyl)-9,10-dihydro -9-oxoacridine-4-Carboxamides as Potent MDR Reversal Agents in Cancer. Chinese Journal of Chemistry,29, 2011, 504-510. (Impact Factor-1.04)