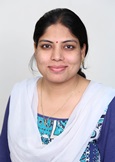 Dr. Kavita H. Singh

Assistant Professor

M.Pharm., Ph.D. (Tech.)
Specialization
Pharmaceutics

Email Id
kavita.singh@nmims.edu
Phone No.
+91-022-42332000 (Extn- 2024)
Experience : 5 years (Industry: 2 years, Academics: 3 years)
She has 2 years' work experience in industries like Pfizer Pvt Ltd And Ipca Lab Pvt Ltd. She has worked as Senior Research Fellow for research project sponsored by Relmada Therapeutics, USA during doctoral research. She carries keen interest in Pharmacy education and has been teaching undergraduate students in various drug delivery subjects since Aug 2012.
Interest areas:
Expertise in development of various formulations viz. Polymeric and lipid based Nano carriers, Novel ophthalmic drug delivery systems, Osmotic drug delivery systems, Colon targeted and extended release matrix based oral solid dosage forms.
Research
Publications – 14 (International - 10, National - 04) 
Book Chapters – 01 
Patents – 01 (Filed)
Presentations - 20 (International- 5, National- 15 )
Government funded projects handled –
Polymeric Nanoparticulate systems have been developed for an antiglaucoma agent to prolong the release of drug to the Ocular Membrane funded by University of Mumbai. (Rs. 22,000).
Industry projects handled-
Development of oral modified release formulations such as Push pull osmotic pumps, controlled porosity osmotic pumps, extended release matrix tablets, ileo-colonic nano-delivery systems for Cyp 3A4 substrate used in pain management. Funded by Relmada Therapeutics (Rs. 5 lacs).
"iDisso setup and visual monitoring studies" & "Statistical Assessment of Drug Release Profiles and Analysis of Dissolution Aliquots Subjected to Varied Dilution and Mixing Efficiency" for ELECTROLAB, Mumbai.
"Evaluation of Dermatological Products: Ex-vivo diffusion and permeation studies through human cadaver skin", for CLAIMS Pvt Ltd, Mumbai.
"Herbal formulation development" for Vedic Life Sciences, Mumbai.
Conferences/Workshops/Seminars attended
More than 25
Academic activities
Dr. Kavita Singh is appointed as Technical Expert for E-content and video development for Units of Physical Pharmacy under National mission on education through information and communication (NMEICT), Consortium for Educational Communication, UGC MHRD PROJECT by Educational Multimedia Research Centre (EMMRC) as per the guidelines framed by UGC, Consortium for Educational Communication.
Appointed as External referee for conducting Viva-Voce examinations of M. Pharm. (Pharmaceutics) students from University of Mumbai.
Awards
Received Research grant of Rs. 38 Lakhs under the scheme, Early Career Research Award of Science & Engineering Research Board (SERB), DST, Govt. of India for the project entitled "Development and assessment of novel formulations containing therapeutic proteins and siRNA for treatment of Diabetic retinopathy." 
Obtained 4th rank in P.G. Diploma in Patent Law from NALSAR University of Law, Hyderabad, India in May 2017 with A+ grade.
First Prize for poster presentation entitled "Investigation of In-vitro In vivo release profiles of Buprenorphine HCl loaded nanoparticles for colon targeting" at DISSO INDIA 2013, International Annual Symposium organized by Society of Pharmaceutical Dissolution Science at Mumbai, India.
Awarded Senior Research Fellowship for the doctoral research by Council of Scientific and Industrial Research, Govt. of India, New Delhi, India in April 2012.
Ratan Tata scholarship, Sir Dorabji Tata Trust, Fort, Mumbai for the Year 2001-2002.
Professional Memberships
Life member of Indian Pharmaceutical Association 
Life member of Association of Pharmaceutical Teachers of India
Recent Publications
Ujwala Shinde, Sheela Modani and Kavita Singh. Design and Development of Repaglinide Microemulsion Gel for Transdermal Delivery. AAPS Pharm SciTech. Accepted in May 2017. 
Anjali Kudtarkar, Ujwala Shinde, Gopal Bharkad and Kavita Singh. Solid lipid nanoparticles of albendazole for treatment of toxocara canis infection: in-vivo efficacy studies. Nanoscience & Nanotechnology-Asia, 2016; 6(3):1-12. 
Shinde UA, Shete JN, Nair HA, Singh KH. Design and characterization of chitosan-alginate microspheres for ocular delivery of azelastine. Pharmaceutical Development and Technology. 2014 Nov; 19(7):813-823. 
Noorjahan A, Amrita B, Kavita S. In vivo evaluation of taste masking for developed chewable and orodispersible tablets in humans and rats. Pharmaceutical Development and Technology. 2014 May; 19(3):290-295. 
Shinde U, Ahmed MH, Singh K. Development of dorzolamide loaded 6-o-carboxymethyl chitosan nanoparticles for open angle glaucoma. Journal of Drug Delivery. 2013:562727. 
Singh, K.; Bajaj, A.; Babul, N.; Kao, H. Controlled 24 hour oral delivery of buprenorphine using a push pull osmotic pump. Journal of Pain. 2012, 13(4):S78.