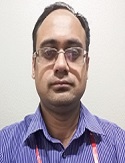 Vaibhav Anil Dixit

Associate Professor

Ph.D.

Specialization

Medicinal, Computational chemistry, Drug Metabolism and Toxicity
Email Id
vaibhav.dixit@nmims.edu
Phone No.
022-42332000 (Extn- 2018)
Experience:

Total in years 6
(Industry – 2.5 years, Academics- 3.5 years)
During my M.S. and Ph. D. at NIPER, SAS Nagar, I have developed expertise in drug design, organic synthesis, and applications of quantum chemistry in chemical reaction/ kinetics, drug metabolism prediction and properties of novel boron containing compounds. These skills were later applied in explaining the control of redox-potentials, drug metabolism and drug-drug interactions during my first Postdoc at IISc, Bangalore (unpublished data). At AstraZeneca, UK I have investigated properties of novel five membered azaborole heterocycles both theoretically and experimentally. I have also reviewed recent methods of predicting drug metabolism catalyzed by CYP450 and non-CYP450 enzymatic systems. Toxicity of selected phenolic natural products have been investigated using WebMO/ GAMESS programs. Currently I am involved in developing drug toxicity and metabolism prediction models using novel toxicity indices and machine learning methods.
Interest areas:
Drug Metabolism prediction. 
Drug Toxicity prediction. 
Applications of quantum chemistry 
Medicinal Chemistry and Drug Design
Research
Publications – 14 (International- 14)
Book Chapters – 1 
Presentations – 4 (International- 1, National- 3)
Conferences/Workshops/Seminars attended - 3

1. "Studies on the Hepatotoxicity of Phenolic Natural Products" 1st Indian conference of the International Society for Study of Xenobiotics (ISSX). 1-3 September 2016 at JN Tata Auditorium, Indian Institute of Science, Bangalore.
2. "Toxic Metabolite Formation from Troglitazone (TGZ): New Insights from a DFT Study and Design of Potentially Non-Toxic Analogues" An international conference on "Applied Theory on Molecular Systems (ATOMS) 2011" 2-5th November 2011 at IICT, Hyderabad, India.
3. "Design and Synthesis of Y-Shaped PPAR-γ activators", at Chemical Research Society of India, North Zone meeting, September 22nd to 24th, 2011 Jammu, India.
Academic activities

He has guided 2 M.Pharm. students for their research projects.
Awards
Postdoctoral Fellowship, AstraZeneca, Macclesfield, UK, 2013-2015 
Dr. D. S. Kothari Postdoctoral Fellowship, 2012-2013. 
UGC-CSIR NET 2007 – Lectureship. 
GATE-2004 conducted by IIT, Delhi.
Professional Memberships

Member of Royal Society of Chemistry (MRSC)
Recent Publications
Dixit, V.A., Lal, L. A.; Agrawal, S. R. Recent advances in the prediction of non-CYP450-mediated drug metabolism. WIREs Comp. Mol. Sci. 2017, doi: 10.1002/wcms.1323. 
Dixit, V. A.; Goundry, W. R. F., Tomasi, S. C=C/B-N isoelectronic substitution in five membered heterocycles. A computational study. New. J. Chem. 2017, doi: 10.1039/C7NJ00950J. 
Dixit, V.A.; Deshpande, S.S. Advances in computational prediction of regioselective and isoform specific drug metabolism catalyzed by de CYP450s. ChemistrySelect 2016, 1, 6571-6597. 
Dixit, V. A.; Rathi, P. C., Gohlke, H., Petersen, R. K., Kristiansen, K., Chakraborti, A. K., Bharatam, P. V. Design and synthesis of novel Y-shaped barbituric acid derivatives as PPARγ activators. Eur. J. Med. Chem. 2016, 108, 423-435. 
Taxak, N.; Dixit, V. A.; Bharatam, P. V. Density Functional Study on the Cytochrome Mediated S-Oxidation: Identification of Crucial Reactive Intermediate on the Metabolic Path of Thiazolidinediones. J. Phys. Chem. A. 2012, 116, 10441–10450. 
Dixit, V. A.; Bharatam, P. V. Toxic metabolite formation from Troglitazone (TGZ): New Insights from DFT study. Chem. Res. Toxicol. 2011, 24, 1113-1122.