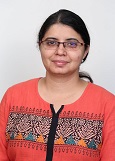 Dr. Archana Upadhya

Assistant Professor

B.Pharm., M.Sc. Tech, Ph.D.

Specialization
Biotechnology
Email Id
archana.upadhya@nmims.edu
Phone No.
022-42332000 (Extn- 2029)
Academic Experience: Teaching (6.8 years), Research Institutes (5 years) Industry Experience: 1.5 years
Worked in industry on projects related to protein purification and virus purification using chromatographic and non-chromatographic methods. Academic research involved study of resins for expanded bed chromatographic applications, DNA cloning techniques, DNA and RNA isolation, molecular biology for preparation of probes for identification of genes, designing of PCR primers, application of PCR and real time PCR techniques, cell culture techniques involving cancer cell lines, study of protein expression on cancer cells and normal cells employing western blotting and mass spectroscopic techniques, gene delivery methods using cell lines, tumour biology.  Instructed M.Pharm and B.Pharm students on basics in cell and molecular biology, advances in biotechnology including use of bioinformatics, advanced drug evaluation techniques, practical biochemistry.

Interest areas: 
Biomolecule Purification
Molecular Biology
Cancer Biology
Research
Publications: 06 ( International -05, National-01)
Conferences/Workshops/Seminars attended 
16