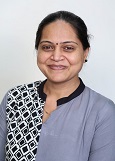 Deepali Vinod Kaduskar

Associate Professor

M. Pharm., Ph.D.
Specialization

Pharmaceutics
Email Id
deepali.kaduskar@nmims.edu
Phone No.
022-42332000 (Extn- 2026 )
Interest areas:
Synthesis and characterisation lipidic nano drug delivery systems and inorganic nanoparticulate systems.
Inorganic particulate systems, mainly focusing on mesoporous silica nanoparticles, Zinc oxide nanoparticle include synthesis, characterisation & application, mainly in drug delivery. 
Targeting MSN at tumour cells, Functionalization of MSN for theranostic approach and for diagnosis purpose, label free synthesis of MSN.
Synthesis and evaluation of mesoporous bioactive glass and fabrication & evaluation of scaffolds by 3D printing.
Research
Publications – 5 (International-2, National-3)
Patents- 02
Presentations – 12 (International-4, National-8)
Conferences/Workshops/Seminars attended
15
Academic activities
She has guided 16 M.Pharm. students for their research projects. 
Professional Memberships
Controlled Release Society
Indian Pharmaceutical Association, Life Member