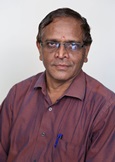 Dr. Veeranjaneyulu Addepalli

Sr. Professor

M. Pharm., Ph.D.
Post Doctoral Fellow , Canadian Heart foundation ,CANADA
Areas of Specialisation
Pharmacology
Official Email Id
v.addepalli@nmims.edu
Office Phone No.
022-42332000 (Extn- 2030)
Experience

33 years ( Industrial R&D: 17yrs ; Teaching : 16yrs)

In Pharma New Drug discovery as Associate Director (Pharmacology ), NCER, Lupin Research, Pune , Dr Addepalli was heading Pharmacology Div. in leading a group of Scientists in Research Planning and Execution. Coordinated international CRO based studies. Audited IND directed study reports in Pharmacology and Toxicology for entire range of studies as per regulatory guidelines which led to filing of Investigational New Drug Applications for CNS /Neurological disorder Migraine, Psoriasis ( Herbal & Synthetic) and Tuberculosis. He had Three Patents for migraine prophylaxis /CNS disorders (US, European and Indian)

Dr. Addepalli Guided Preparation of study-protocols as per US FDA/OECD or ICH guidelines and responsible for Designing of preclinical Pharmacological studies complying to international GLP guidelines. Supervised and executed final reports preparation/ for regulatory submissions towards IND/NDA/ANDA. As Quality Assurance Unit Head at Lupin Research executed SOP,s /final approvals Conducting Audits (Preclinical and Clinical Studies related ) as per GLP and GCP guidelines. At IDPL R &D, Hyderbad,as Research executive he was actively involved in Development of lead molecules for Anti-inflammatory and Antidepressant activities under New Drug Discovery Programme.

Dr Addepalli served as Teaching Faculty upto the level of Professor at the reputed BITS-Pilani . He was invited as Visiting Professor/Scientist under the aegis of Canadian Heart Foundations to International Institute of Medical Sciences PR China.

Interest areas:

Metabolic Disorders-Diabetes & Complications
CNS Disorders-Psychopharmacology
Cardiovascular Pharmacology
Receptor Pharmacology
Research & Publications

Publications – Total number- 165 (International 125- National- 40 )
Books - 02
Book Chapters - 10
Patents - 03
Presentations - 80 (International - 35 National- 45)
Government funded projects – 04
Completed as Principal investigator

1. Therapeutic potential of novel arylpiperazines as antiemetics (in cytotoxic drug induced emesis) prokinetic agents, CSIR, Govt.of India, 8.5 lac plus with one SRF- Separately.
2. Synthesis and antimalarial activity of newer derivatives of Artemisinin for drug resistant strains of Plasmodium falciparum,UGC, 15 lac.
3. Investigation into the prokinetic effects of novel triazoloquinoxalines mediated through serotonergic receptor modulation, UGC Minor project, 5 lac.
4. As co-investigator : Development of model for Non Alcoholic Fatty Liver Disease based on Ayurvedic principles, AYUSH, Govt Of India, 5 lac.
Industry projects - Completed-04

Memory enhancing activity profiling of plant extracts in rat model. Marico Pvt. Ltd., 2.1 lac (2010-2011).

Stability testing of selected formulations. Lupin Mumbai, 2 lac (2009-2011).

Immunomodulation and Inflammatory activity of NCES's. Vedic Life Sciences, Mumbai, (2007- 2008).

Synthesis of new 5-HT receptor antagonists for treatment of cancer chemotherapy induced emesis and as antipsychotics. BITS- Pilani-NATCO, Hyderabad collaborative project.

Conferences/Workshops/Seminars attended- 95

Academic activities

He/She has guided 102 M.Pharm. students for their research projects.

He/she has guided 10 PhDs successfully and 2 candidates are registered under his/her supervision.

Awards

Dr. Addepalli V. received the Best Research oriented Faculty awards and, Best Research Paper Award for the year 2009, 2012, 2013 by SVKM's NMIMS, Mumbai.

Honored with Chair at International Conference on Diabetes and Metabolism, Santa Clara, CA, USA, 2011.

Received a Letter of Appreciation for Scientific publication, March 2010 in Neurological Sciences, highlighted in the Target Intelligence Service (TIS), USA, the database used by pharmaceutical companies worldwide to identify ground-breaking research of relevance to their work on potential drug targets.

Papers ( from the studies conducted as a part of doctoral thesis work by Ph.D aspirants guided by Dr Addepalli,V ) presented at International Conferences were awarded :

1. American Society for Pharmacology and Experimental Therapeutics awarded ASPET Travel Grant (1000$), California, USA, 2010.
2. Barrie Hesp Scholarship by Keystone Conference: Awarded US$ 1000 under the Doctoral student scholarship awards, Vancouver, Canada, 2009.
3. IXth World Congress on Clinical Pharmaciology & Theurapeutics CAD $ 1000, 2008, held at Quebec city, Canada

Best research paper Award : (Oral session) ANS Section Indian Pharmacological Society (IPS) Annual Conference December 1994, Bombay.

CANADIAN Heart Foundation Post Doctoral Research, Canada. Award : 25,000 Canadian $ per year, 1987-88.

Young Scientist travel grant for Asian Congress of Pharmacology,1986

Professional Memberships

The Indian Pharmacological Society, Life member

International Academy of Cardiovascular Sciences, IACS, USA

International Society for Pharmacoeconomics and Outcomes Research, ISPOR, USA

Indian Pharmaceutical Association

International Society for Heart Research, Indian section

Indian Society for Clinical Pharmacology & Therapeutics

Recent Publications

Kale PP, Addepalli V. Augmentation of antidepressant effects of duloxetine and bupropion by caffeine in mice. Pharmacol Biochem Behav. 2014 ;124:238-244. ( Impact Factor 3.0 )
Megha S. Saraswat , Veeranjaneyulu Addepalli , Mukul Jain , Vishwanath D. Pawar , Rakesh B. Patel "Renoprotective activity of aliskiren, a renin inhibitor in cyclosporine A induced hypertensive nephropathy in dTG mice, Pharmacological Reports 2014;66: 62–67 ( Impact Factor # 2.35 )
Bhatt LK, Veeranjaneyulu A. Enhancement of Matrix metalloproteinase 2 and 9 inhibitory action of minocycline by aspirin: an approach to attenuate outcome of acute myocardial infarction in diabetes. Arch Med Res. 2014 Apr;45(3):203-9.2. ( Impact Factor # 2. 4)
Parkar N. Addepalli V. Amelioration of diabetic nephropathy by orange peel extract in rats. Natural Product Research. 2014. in press. ( Impact Factor # 1. 25)