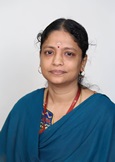 Dr. Saraswathy Nagendran

Associate Professor 

M.Sc., M.Sc., Ph.D., PGDCA, PGDE-COM., PGDBI

Specialization
Biochemistry, Bioinformatics, Information Technology and Computer Applications
Email Id
n.saraswathy@nmims.edu
Phone No.
022-42332000 (Extn- 2020)
Experience

Academics-12 years

Prior to joining SPPSPTM, she has held Academic Positions as Lecturer/HOD in various reputed colleges specializing in Bioinformatics, Computational Biology, Botany, Microbiology, Biotechnology and Computer Applications. She has actively participated, presented and organized various State/National level Seminars/Symposiums/ Workshops. She has been a Research Advisor, Project Guide and External Examiner for M.Phil., and M.Sc., programs at various reputed Universities and has published papers in reputed National and International Journals. She has successfully completed courses in Mitochondriomics and Protien-Protien interactions conducted by Bioinformatics Organization, Inc., USA. She was also declared as scientist in scientist's spotlight for February 2008, by bioclues.org.

Interest Areas:

Bioinformatics & Computational Biology
Biochemistry
Industrial Microbiology
Phytochemistry
Information Technology
Statistics and Pharmaceutical Mathematics
Research:

Publications – 15 (International-07, National-08)
Book Chapters – 1
Presentations - 04 (National0-4)
University Funded Projects: 01

Ongoing (Identification and Isolation of Bioactive Compounds from Potential Marine Actinomycetes,
Funded by SVKM`s NMIMS University, Project Cost: Rs. 100000/-)
Conferences/Workshops/Seminars Attended

07
Academic Activities

She has guided 39 Nos. of M.Sc./M.Pharm. Students for their research projects.
She has guided 1 no. Of M.Phil.successfully. 
Recent Publications:

1. Erica Sequeira and N.Saraswathy. Snapshot on Potential involvement of enzyme Secretase in Alzheimer`s disease. World Journal of Pharmacy and Pharmaceutical Sciences. 2014.3(3):443-462.
2. Riddhi Sawant and Saraswathy Nagendran. Protease: An enzyme with multiple Industrial Applications. World Journal of Pharmacy and Pharmaceutical Sciences.2014. 3(6):568-579.
3. Erica Sequeira and Saraswathy N. Biofilm: An extra polymeric substance accountable for chronic infections and its emerging link with phage therapy. World Journal of Pharmaceutical Research.2014.3 (4):494-508.
4. Erica Sequeira and Saraswathy Nagendran. Neuroinformatics: A Spotlight on Various Databases and the Importance of their Integration. American Journal of Phytomedicine and Clinical Therapeutics.2014.2 (8):976-984.