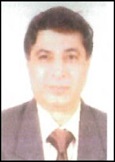 Mr. Ram Shelat
Associate Professor

M.Sc. in Botany (Specialization in molecular biology),
Certificate course in Marketing Management (IIM Kolkata)

Specialization

Marketing Management
Email Id
ram.shelat@nmims.edu
Phone No.
022-42332000 (Extn-2016)
Experience

More than 35 years in Pharmaceutical industry
He has remarkable experience in various departments such as sales and marketing, R&D, Production (Operations), Supply chain, Human resource, International marketing, Finance and costing. His key projects included 1) Setting up of two Pharma units in Aurangabad and Roorkee and 2) Merger and acquisition of Rallies India and Plethico.
He worked as a CEO for five years and as marketing Director for 3 years in Shreya Life Sciences Pvt. Ltd. He worked as a Senior Vice President, Sales and Marketing with Tablets India Ltd. He was also associated with Merck Sharp and Dhome (MSD) in Field sales management. He has conducted various management development programs for junior and senior management and participated/ conducted various scientific programs in India and Internationally.
Interest areas

Marketing
Strategic Alliances 
New Product Idea Generation and Development Support.
Conferences/Workshops/Seminars attended

25
Academic activities

He has guided 15 M.Pharm + MBA (Pharm tech) students for their research projects.