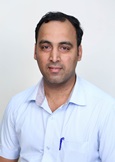 Dr. Surendra Satyanarayan Agrawal

Associate Professor
In charge Head, Department of Pharmaceutical Quality Assurance

M.Pharm., Ph.D

Specialization
Quality Assurance
Email Id
surednra.agrawal@nmims.edu
Phone No.
022-42332000 (Extn- 2094)
Experience

10 Years 6 Months (Academics)

He has substantial academic experience in teaching learning module. He worked at different places including Gondia, Shirpur and Mumbai showing participation in curricular and extracurricular activities.

Interest areas:

Research areas of interest include Herbal drug research (standardization and phytochemistry aspects), Formu''lation development of oral sustained drug delivery and analytical method development (HPLC/HPTLC/GC)
Research

Publications – 23 (International-16, National- 07)
Book Chapters- 01
Presentations- 19 (International-03 , National- 16)
Industry projects

Completed (Development of Calamine lotion, Encube ethical Pvt. Ltd., Mumbai, 4.5 Lakh)

He is reviewer for many peer reviewed Pharmaceutical journals
Conferences/Workshops/Seminars attended

42

Academic activities

He has guided 40 no. of Pharm. students for their research projects.

Awards

Teaching Excellence award 2014-15 (Best faculty award) by Shobhaben Pratapbhai Patel School of Pharmacy & Technology management, Mumbai.
Best oral presentation award in "Nanotechnology section" at International Conference on Life science, informatics, food & environment on 28-29th August 2014 at JIIT, Noida, New Delhi
Received registration grant of 250 € (Euro) for attending and Presenting a Paper at 1st International conference on Industrial Pharmacy held at IIUM, Malaysia on 16-17th August 2014
AICTE Junior Research Fellowship
Professional Memberships

Life member, Association of Pharmacy Teachers of India, since 2007. (MH/LM/1447)
Life member of Indian pharmaceutical Association (MAH/JAL/OM/0012)
Life member of Society of Pharmaceutical Education & Research, Chandigarh (SPER/LM/MH/052)
Recent Publications

Solubility Enhancement of Andrographolide and Formulation Development of Hollow Microspheres. World Journal of Pharmaceutical Research, 2016, 5 (8): 628-638.
Formulation development of Multi-Unit Particulate System (MUPS) for anti-diabetic drugs. Asian Journal of pharmaceutical Sciences 11, (2016): 77–78
Formulation Development and Evaluation of Gabapentin Controlled Release Tablets. Pharmacy & Pharmacology International Journal, 2015, 2(3): 00021-00028.
Solid Lipid Nanoparticles of Levamisole hydrochloride. Indo Global Journal of Pharmaceutical Sciences, 4 (3), 2014: 141.
Niosomes: Layered Delivery System For Drug Targeting. International Journal of Scientific Research, 2014, 3(1), 413-417.