SPPSPTM faculty, Dr. Mukesh Nandave, Presented Poster at 2016 XXII ISHR World Congress in Argentina

Dr. Mukesh Nandave, Associate Professor in Pharmacology from SPP School of Pharmacy & Technology Management (SPP SPTM), SVKM's NMIMS University, Mumbai presented poster at the 2016 XXII International Society for Heart Research (ISHR) World Congress held on April 18-21, 2016 in Buenos Aires, Argentina. The World Congress was attended by approximately 800 research scientists and clinicians from all over the globe working in cardiovascular sciences. His title of presentation was "A Comparative Study on High-Fat Diet Induced Metabolic Abnormalities in Male and Female C57BL/6 Mice". During congress, he interacted with Dr. Robert J. Lefkowitz, The Noble Laureate, who discovered G protein-coupled receptors. To succeed in science, Dr. Lefkowitz suggested to be BOLD, SMART, most importantly WORK HARDER & HARDER TO TACKLE CHALLENGING QUESTIONS OF SCIENTIFIC IMPORTANCE, and SHOW TECHNICAL COURAGE. Dr. Nandave acknowledges the Centre for International Co-operation in Science (CICS)-INSA and NMIMS University, Mumbai for International Travel Grant.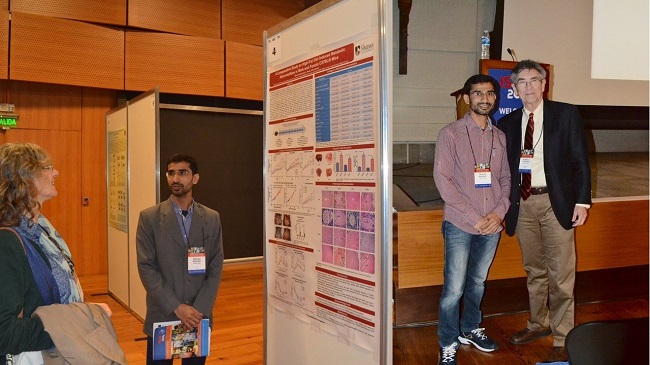 Dr. Mukesh Nandave, interacting with Dr. Robert J. Lefkowitz, the Noble Laureate and other scientists at 2016 XXII ISHR World Congress, Argentina.