ALUMNI SPEAK

If you are an Alumni of SPTM, please

 your details.


Abhisekh Jain
Company - Vergo Pharma. Research Pvt. Ltd.
M. Pharm. (Pharmaceutics) 2011 Batch
Current Designation - Research Scientist-I
I remember each and every moment spent in SPTM as I jot down here my experiences. This experience has changed my thoughts and perception towards life in a more logical form. As the journey started I gained valuable knowledge and I met some wonderful people. I have made many professional relations in the company which is the best part in my SPTM journey. Overall my SPTM journey has been fruitful and memorable and I will always be thankful and obliged to this institution.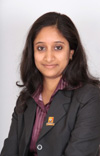 Ashruti Srivastava
B.Pharm. + MBA (Pharma. Tech.) 2011 Batch
Current Designation - Product Manager
Company - Allergan
SPP SPTM has been a place where I found extremely a unique blend of excellence and exposure to Pharma industry. Five years in a B-school environment have been a boon in my professional career. It has instilled me with managerial qualities and plethora of skills. The experience gained at SPTM not only added to my technical skills but also familiarized me with specific scientific skills and cultivated a habit of being abreast of latest developments in the field of pharmacy. Personally, this course and college environment has enabled me to understand the nuances of Indian healthcare & prepare me to contribute effectively in the future. Today, here I am, standing on my own feet to face the challenges of the corporate world... But, this is just a humble beginning and I have miles to go in the years to come.
In my opinion, excelling at NM requires working hard from Day 1.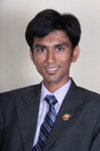 Ishan Vyas
B.Pharm. + MBA (Pharma Tech.) 2012 Batch
Current Designation - Senior Project Associate
Company - Indegene Lifesystems
The 5 years of journey at SPP-SPTM turned out to be a mixture of all kind of emotions - fun, joy, tension and satisfaction. With a brigade of well-informed and knowledgeable faculty, the lecture rooms were always a place to look forward to. Free minded discussions and fruitful problem solving sessions made the lecture more interesting. With great jobs in bag and a well groomed personality, each one of us are looking forward to transcend our horizons and make a mark in the Corporate World!!!
In my opinion, excelling at NM requires working hard from Day 1.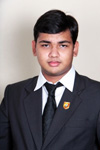 Rishabh Gupta
B.Pharm. + MBA (Pharma Tech.) 2012 Batch
Current Designation - Area Business Manager
Current Company - GlaxoSmithKline India
My journey of five years in SPTM has been enriching and full of learning experiences. SPTM has provided me 'n' number of opportunities which have helped me develop my personality and grow into better and responsible individual ready to move into corporate world. The best part about SPTM was its industry interface.
Being in SPTM has provided me numerous occasions to interact and meet with Stalwarts of Indian Pharma Industry and learn from their vast experiences I am thankful to SPTM !!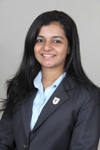 Pavitra RamKumar
M. Pharm (Pharmaceutics) + MBA (Pharma Tech & Healthcare Management) 2014 Batch
Current Designation - Analyst
Current Company - AC Neilson
SPPSPTM has helped me grow as a person and hasprovided me with plenty of opportunities for which I will always be thankful. My years at the school have helped me develop an ability to excel in every Endeavour. I will always cherish my time spent here

Ketan Chaudhari
B.Pharm. + MBA (Pharma Tech.) 2014 Batch
Current Designation - Management Trainee
Current Company - GlaxoSmithKline India
The journey of 5 years at SPPSPTM has been enriching and full of learning experiences. The school has provided me numerous opportunities which have helped my personality and grow into a better and responsible person