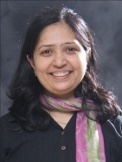 Amisha Kamlesh Vora
Assistant Professor, Department of Pharmaceutical Chemistry

M. Pharm., Ph.D.

Specialization

Pharmaceutical Chemistry
Experience : Academics - 12 years
She has 12 years' experience in teaching undergraduates and post graduates subjects like Pharmaceutical Chemistry, Pharmaceutical Analysis and Pharmaceutical Organic Chemistry.
Email Id
amisha.vora@nmims.edu
Phone No.
+91-022-42332000 (Extn-2080)
Experience

10 years in Academics
Interest Areas

Analytical method development and validation
Standardization of herbal drugs and formulations
Development of herbal formulations
Research

• Publications – 6 (International- 3, National-3)

• Patents – 1 (Application filed)

• Presentations – 2 (International)

Conferences/Workshops/Seminars attended

Total number. 15
Academic activities

She has guided 18 M.Pharm. students for their research projects.
Professional Memberships

Life member of Indian Pharmaceutical Association 
Life member of Association of Pharmaceutical Teachers of India
Recent Publications

Vora A, Londhe V, Pandita N: Herbosomes enhance the in vivo antioxidant activity and bioavailability of punicalagins from standardized pomegranate extract, Journal of Functional Foods, 2015; 12: 540-548.
Vora A, Londhe V, Pandita N: Preparation & Characterization of Standardized Pomegranate Extract-Phospholipid Complex as an Effective Drug Delivery Tool, Journal of Advanced Pharmaceutical Technology and Research, Apr-Jun 2015, 6(2): 75-80.
Patel D, Vora A, Development and validation of a high performance thin layer chromatographic method for simultaneous determination of genistein and vitexin in seeds of Vinga mungo, Journal of Planar chromatography, 2014, 6:472-76.