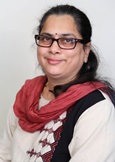 Dr. Vaishali Yogesh Londhe

Professor & HOD, Quality Assurance

M.Pharm, Ph.D.

Specialization
Pharmaceutics, Analytical method Validation, Impurity profiling
Email Id
vaishali.Londhe@nmims.edu
Phone No.
022-42332000 (Extn- 2037)
Experience
Total in years  : 14 years
(Industry : 9 years and academic experience- 5years)
After doctorate in Pharmaceutics, worked in Sun Pharmacutical Advanced Research Centre, Mumbai and Aurobindo Pharmaceutical Limited Reasearch centre, Mumbai  at various levels. This work includes mainly analytical method development, dissolution method development, impurity profiling, analytical method validation for ANDA projects.  To prepare specifications, standard test procedures, validation protocol, validation reports as a part of documentation. To give justification for set specifications and helping Regulatory department to answer analytical related queries raised by USA / Europe / Canada Regulatory bodies. 
In academics, she is teaching post graduate students and guiding students for research activities. She is working as Head of Quality Assurance department and In-charge for Project Placement. She had also worked as Chairperson for Part time M Pharm.
Interest areas: 

Analytical method development and validation

Formulation Development

Solubility enhancement methods using different approaches

Research

Publications – Total number (International-  14, National- 5)

Books- Nil

Book Chapters- 2

Patents- 1 under review

Presentations- Total number (International- 7, National- 11)

Government funded projects – nil

Industry projects : 2


Completed (Development and evaluation of chewable antacid  tablet, Sanjivani Parenterals, Chemicals worth  Rs. 50,000/-)
Ongoing    ( Analytical method development and validation for assay and RS of Isotretinoin liposomal gel, IPCA Laboratories, Kandivali (W),  amount in Rs.2,00,000/-)
Conferences/Workshops/Seminars attended
15
Academic activities
She has guided 24 M.Pharm. students for their research projects.
She has guided 2 PhDs successfully and 4 candidates are registered under her supervision. 
Awards

DST Travel grant (Rs 92,036/-) and NMIMS grant (Rs 50,000/-) to present posters at AAPS 2012 Annual Conference and Exhibition  held on 14-18th October 2012 at Chicago IL 

3rd Prize to Mr. Divyen Shah  for Best Poster  on 'Nanotechnology approach for immunomodulatory drug' in 'Two day National Conference on Particle Technology with Special Emphasis on Nanotechnology'  held on 22nd-23rd April 2011 

3rd Prize  to Miss Sneha Ranade for Best  Poster  on 'FORMULATION AND EVALUATION OF FAST DISSOLVING FILM OF TELMISARTAN' in  Manshodhan II, Category A,  organized by Mithibhai College on 26th November 2011

AICTE scholarship (For Ph. D., Academic years 1996 – 1999)

AICTE scholarship (For M. Pharm., Academic years 1994 – 1996) 

Secured all India 13th rank in GATE examination (1994), Stood first in Bombay College of Pharmacy in gate score

Obtained highest marks in Pharmaceutical Chemistry (Final Year)

National Talent Search (NTS) Scholarship (Academic years 1988-1994) 

21st Rank in the S. S. C. merit list examination

High – school Scholarship at the 7th standard

Professional Memberships
Registered Pharmacist (Life member) under Maharashtra State Pharmacy Council.
Life member of Indian Pharmaceutical Association
APTI member
Recent Publications

S Ranade, V Londhe, A Bajaj MICROEMULSION BASED GELS FOR TARGETING NEUROPATHIC PAIN Journal of Pharmaceutical Sciences and Research 6,2014,  2515-2524

S Ranade, A Bajaj, V Londhe, D Kao, N Babul, "Fabrication of Polymeric Film Forming Topical Gels", International Journal of Pharmaceutical Sciences Review & Research 26 (2), Article 52, May – June 2014, 306 -313

A Mehta, A Thaker, V Londhe, SR Nandan, "Reinvestigating Raney nickel mediated selective alkylation of amines with alcohols via hydrogen autotransfer methodology", Applied Catalysis A: General, 478, 2014,  241-251 (Elsevier Publication, Impact factor 3.91)

Dushant D.G. and Dr. Vaishali Londhe,' Formulation and evaluation of extended release tablets of Nevirapine' Journal of Pharmacy Research, Vol. 5, Issue  1, January 2012, 147 - 149 (impact factor 2.507)