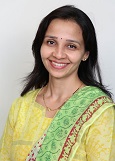 Dr. Kalyani Himanshu Barve
Associate Professor

M. Pharm., Ph.D.

Specialization

Pharmacology, Pharmacognosy
Official Email Id
kalyani.barve@nmims.edu
Office Phone No.
+91-022-42332000 (Extn-2025)
Experience

Academics-8 years
She has been teaching undergraduate and post graduate students, subjects like pharmacology, pharmacognosy, pathophysiology and anatomy and physiology and has executed research projects in areas of neuropharmacology, toxicology, cardiovascular pharmacology, clinical trials and bioavailability and bioequivalence studies.
Interest areas

Preclinical evaluation of medicines used in traditional systems (Ayurveda, Siddha, Homeopathy and Unani) used in cardiovascular and metabolic disorders.
Study of Pharmacodynamic interactions of herbs and medicines
Standardisation of herbal formulations using HPLC or HPTLC methods.
Extraction and isolation of phytoconstituents
Research

Publications – 23 (International- 10 , National- 13 )
Books- 2
Book Chapters- 03
Patents- 01
Presentations- 11 (International- nil , National- 11 )
Government funded projects – 1

Ongoing (Preclinical studies on Triphala for its possible effects in the treatment of microvascular diabetic complications, Ministry of AYUSH, 36,64,780/-)
Conferences/Workshops/Seminars attended

19
Academic activities

She has guided 24 M.Pharm. students for their research projects.
Awards

First prize in oral session at Update Ayurveda 2014 conference held at Nair hospital in Mumbai.
Best faculty award at SPTM for the year 2010-2011.
University gold medal for B. Pharm
IDMA-G.P. Nair award for B. Pharm
Award from M.S.U. Pharmacy Alumni Association for securing first rank in B. Pharm
Professional Memberships

Indian Pharmacological Society (IPS) -Life member
Indian Pharmaceutical Association (IPA) -Life member
Association of Pharmacy Teachers of India (APTI) -Life member
Recent Publications

Ginpreet Kaur, Saloni Daftardar, Kalyani H Barve. Modifying Anti-Inflammatory Effect of Diclofenac with Murraya koenigii. Recent Patents on Inflammation & Allergy Drug Discovery 2014:187 – 201.
Pawar AS, Barve KH, Patel A, Raje A and Addepalli VA. A Possible Mechanism of Antidepressant like Effect of Recombinant Human Erythropoietin, J Neurol Neurophysiol 2014, 5 (4):222.
Kalyani H Barve, Ginpreet Kaur, Aadesh Kumar and Saloni Daftardar. The Effect of Murraya koenigii Extract on Therapeutic Efficacy of Amlodipine in Rats: Possible Drug-Herb Interaction, General Med 2015, 3:1.
Kalyani Barve, Kushal Ruparel Effect of Bioenhancers on Amoxicillin bioavailability, ADMET & DMPK (2015), 3(1): 45-50.