Excalibur 2018

16th Jan 2018

On the 16th of January 2018, SVKM'S NMIMS SPPSPTM hosted its much awaited Annual Sports Meet, Excalibur, a day filled with fervour and excitement experienced amidst thrills, shrills and cheers.
This event was held at the Lions Club, Santacruz (W), 7:30am onwards. The day was kickstarted by the conduction of the final matches of Football (boys) and Throwball (girls) followed by Volleyball.

The students entered into the spirit of the occasion in a grand way. The fantastic turnout of about 450-500 students and teachers were the perfect boost for the students.

The major sports events were inaugurated in a traditional manner by our respected Dean Dr. Bala Prabhakar. Post the inauguration ceremony we began with the Girls Box Cricket matches followed by the three major on day events- Dodge ball, Shot-put (before lunch) and Tug of War (post lunch).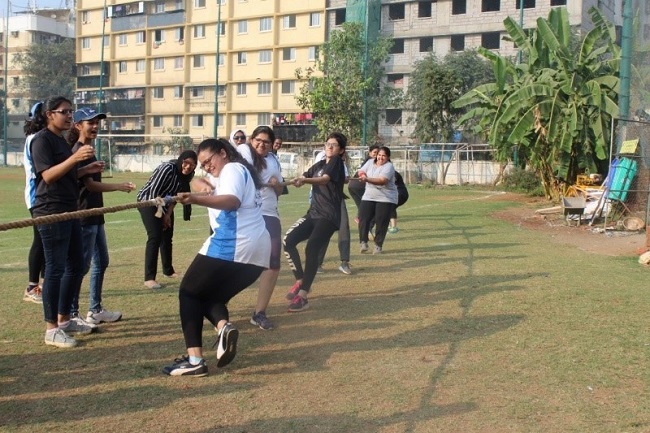 Once these events began, the air was filled with cheering and tons of encouragement from the audience. We also had an extremely exciting Cricket Match played between our students & Faculty members. Our faculty members were nothing but impeccable at the game.

To keep our participants hydrated & energized throughout the day, refreshments were made available to keep everyone going. After 5pm we had our athletic events – Relay & Race being conducted, post the completion of which, we had our Felicitation Ceremony to congratulate all our participants on their victory. Mr. Kartikeya from Fourth year B.Pharm + MBA bagged the Man of Series of the Cricket Tournament. Sharon from Fourth year B.Pharm + MBA was awarded the Best Player of the Throwball Tournament.
The most awaited part of the day was the announcement of the class that managed to display an immense amount of team work and successfully bag the most amount of points. The class to win the most coveted title of the BEST CLASS AWARD- it was the 4th year B. Pharm + MBA class that managed to steal the show this year, winning the highest number of medals. We had the Best Sports Person Boys & Girls from the same class as well- Soham Gawde & Aditi Oak. At the end of the day, students departed with a clear smile on their faces. It was a day filled with sportsmanship, enthusiasm and memories to cherish.
Most importantly we would like to thank SVKM'S NMIMS and our sponsors (listed below) whose contribution assured the success of the event.
1. WISH
2. Eisai Pharmaceuticals
3. Pure Glow
4. Brand Factory
5. Scion
THE EXCALIBUR 2018, CORE TEAM